19. Nov. 2009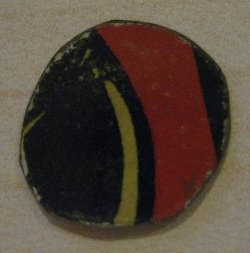 Post & Tele Museum is currently receiving objects relevant to the history of post and telecommunication for our collections and we are able to describe many of them on the basis of our own knowledge or by means of information from the giver. But sometimes there are objects, the function of which we can only guess. And the guesses may be many.

Take for instance these 33 circular pieces of metal. They all have a diameter of approx. 15 mm, weigh less than ½ gram and seem to be cut out of the same enameled plate which looks like an old advertising sign. We assume that the function of the metal pieces has to do with telephone history as the pieces were found among documents and objects from the former Copenhagen Telephone Company Ltd. But what were they used for?
Do You Know?

Our guess is that the metal pieces were either used by a linesman as test coins in telephone boxes or they were used as fake 10-øre pieces, perhaps at the time when the telephone operator had to listen for the drop of the 10-øre coin before connecting the call from a public telephone. But who knows? The metal pieces may also be innocent markers for the annual bingo. That is why we are asking - as Piet Van Deurs once did - about function, time and place.

If you can help the museum with information about the metal pieces, please send us a comment below.
Comment this article
Only serious and factual comments will be published.