01. May. 2006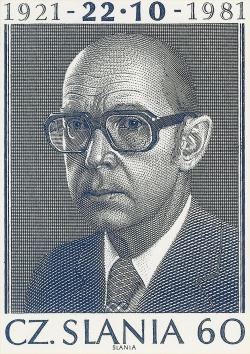 What does an engraver do?

The task of a stamp engraver is to transform a drawing - usually elaborated in eight times the size of the final stamp - into an engraving which then forms the basis of preparation of a forme (plate or cylinder) with many identical reproductions with which an almost infinite number of identical stamps can be printed.

The engraving is performed laterally reversed through a magnifying glass. The engraver's tool, called a burin, is a tiny, sharp, and hardened chisel made of steel by which he cuts indentations in the form of grooves, lines, and dots in a plate of soft, unhardened steel.

With four to five hours of engraving every day - normally the eyes cannot cope with more than that - it takes about a month to engrave a stamp. Slania has, however, on some occasions managed to handle a rush job in less than a week.


Slania's Background

Czeslaw Slania was born on 22nd October 1921 in a small mining village near Katowice in Poland and already in his childhood he showed a special talent for drawing, especially in small formats and with a lot of details. He had not received any relevant training before German troops invaded Poland in 1939, but his artistic skills were very useful to the resistance movement that was in constant need of forged identification papers. Slania could draw such papers with elaborate accuracy and it appears that his forgeries were never disclosed.

When the World War was over, Czeslaw Slania trained at the Academy of Arts in Krakow. After passing his examination he was employed at the Polish Government Printing Office in 1950. There he got acquainted with steel engraving and his first stamp was issued already the year after.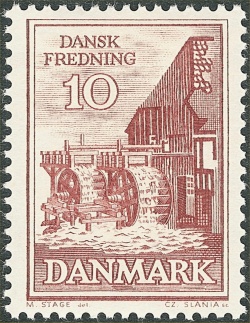 Slania becomes International

In August 1956 Czeslaw Slania moved to Sweden where he was employed with the Swedish Stamp Printing Office in 1959. In 1962 when Denmark was in need of a fast stamp engraver, Czeslaw Slania was "lent" and on 10th May the first Danish stamp from his hands was issued.

Greenland became "Slania territory" in 1963 and the Faroe Islands in 1975. Slania's stamp no. 100 for the Danish postal service was issued in 1973 and no. 200 in 1982. The last of his totally 241 Danish stamps was issued in 1994.

In the 1970's in Sweden as well as in Denmark Slania was appointed royal court engraver. He even got a Danish and a Monegasque order of chivalry.

In the mid 1970's Czeslaw Slania was asked about his professional ambitions. "1000 stamp engrav-ings" was Slania's reply, something that he himself hardly believed would be possible for any stamp engraver. But it came true in the year 2000 when Slania made his engraving no. 1000 for a Swedish stamp.

The exhibition in the stamp cabinet can be seen until the end of the year. Impressions of all Slania's engravings for Danish stamps as well as his sketches for a proof stamp from 1968 with the motif of the Grundtvig's Church are on display. A PC-monitor shows extracts of a film from 1995 featuring a stamp engraver at work as well as printing of stamps in steel engraving.

Comment this article
Only serious and factual comments will be published.