01. Apr. 2007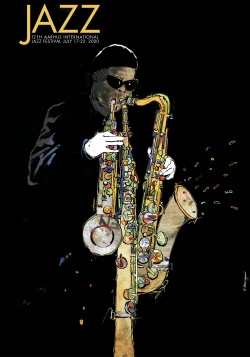 The jazz posters are some Finn Nygaard's most outstanding works. They have been executed during a period of 13 years and right from the beginning Finn Nygaard developed the distinctive style that characterizes his posters. A simplified motif with sharp outlines stands against a surface in one colour opposed to free strokes of the brush and clear, almost calligraphic drawings. The dynamics of the posters are achieved by this combination of tranquillity and movement.

The purpose of the posters is to attract attention and draw attention to themselves. On the balcony of the museum they succeed by means of the chosen presentation of the posters to add a totally new dimension to the room which is intensified even more by muffled jazz music.

The exhibition was described in great detail in the last issue of the MuseumsPosten, which we will be pleased to forward on request. Or perhaps you should pick up the magazine in connection with a visit to the museum - if not sooner, then in connection with Copenhagen Jazz Festival at the beginning of July 2007.
Comment this article
Only serious and factual comments will be published.