20. Nov. 2008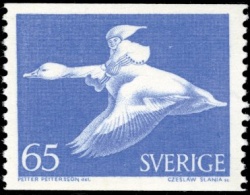 In this way the spell is revoked and Thumbietot becomes again Nils Holgersson; the mischievous boy, who had been transformed so tiny that he could fly all over Sweden on the back of a goose.

Much More than a Text Book

Selma Lagerlöf had been assigned the task of writing a geography book, but she wanted to "make the map come alive" and for that reason she "invented" Nils Holgersson. It is in a dramatic coupling of fantasy and reality that Selma Lagerlöf takes the reader on a journey through all her beloved Sweden. In the book we meet Nils, a lazy and mischievous boy, who after an adventurous and educational journey gets to understand the animals and side with them instead of teasing them. A classic Bildungsroman: home - away - home again.

"To the Hills!"

The tale about Nils Holgersson can be experienced in the exhibition Magic Power - The Readers' Selma Lagerlöf. The visitors to the museum undergo a surprising transformation and see with their own eyes how the world must have looked to Nils Holgersson, who was suddenly so diminutive that all the animals were bigger than him. Now it was no longer a matter of him teasing them, but of them teasing him. In the exhibition you can meet crows, bears, eagles, cranes, rats, and not least geese. When the visitors step into the exhibition, they can follow the alluring call of the wild geese or visit the classroom and become pupils of Selma Lagerlöf for a while. The classroom is the starting point of the journey with Nils Holgersson. The journey is for everybody, and there are puzzles for children between 6 and 10. Nils Holgersson really added to his experience so our invitation to the visitors is taken right out of Selma Lagerlöf's tale: "To the hills! Now we are off to the hills."
Comment this article
Only serious and factual comments will be published.