22. Dec. 2009
Facebook is a social meeting place on the internet where you can keep in touch with your friends and acquaintances, get in contact with former school mates and perhaps an old flame - the only thing required is that the people in question are also on Facebook.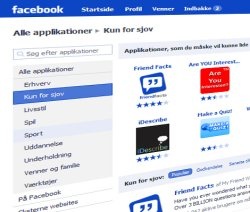 As so many other places on the internet Facebook offers a multitude of extra functions that you can install, including the so-called applications, e.g. flower greetings, quizze, or games. But each time you use a Facebook application, you enable it to read information about you and your friends. The companies which institute the apparently innocent applications are often doing it to make you install the application and thereby give them sensitive information about yourself and your friends which the companies can subsequently use for targeted advertising.

On the occasion of the special "Surveillance" exhibition the museum has developed an application which shows you what information you are sharing with the many funny Facebook applications: Who is watching you? shows you something that all other applications also sees, but never tell you about. Who is watching you? stores no information about you, but it could easily have done so! Its purpose is exclusively to inform you about the hidden eyes peeping in Facebook's myriad of applications.

Log into your Facebook profile and download Who is watching you? here
Comment this article
Only serious and factual comments will be published.